WeddingPro 360° Virtual Tours
Showcase your venue like never before. Give potential clients a virtual tour of your property — anytime, anywhere — offered exclusively to venues with Premium advertising on both The Knot
and WeddingWire.
How Does It Work?
An interactive 360° Virtual Tour gives prospective clients the most realistic experience next to physically being in your space – right from your Storefronts on The Knot and WeddingWire! Plus, you can choose to display additional decor to give engaged couples an idea of how your space can be transformed for their
big day.
1

Schedule
Select the dates your venue is available and we'll contact you to schedule your
virtual tour.
2

Capture
On the day of your virtual tour, our photographer will capture 3D and 360° scans from different locations around
your venue.
3

Upload
Using the scans, we'll create a high-quality 360° Virtual Tour of your venue and add it to your Storefronts on both The Knot and WeddingWire.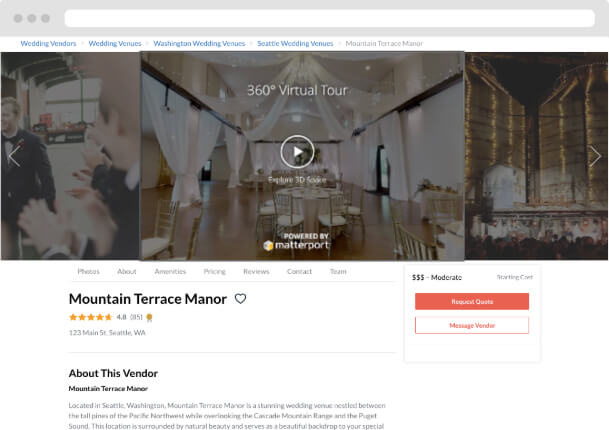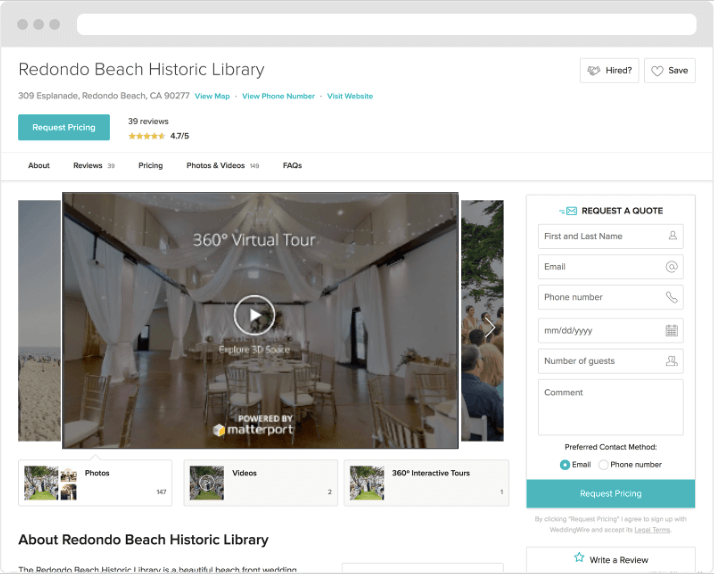 Frequently Asked Questions
How much does a WeddingPro 360° Virtual Tour cost?
WeddingPro 360° Virtual Tours are complimentary to venues with Premium advertising on both The Knot
and WeddingWire.
How long does a virtual tour appointment take?
Appointments typically take 2 to 3 hours, but can vary based on the complexity of your floor plan and square footage. We will calculate the amount of time needed based on the details you provide and schedule accordingly.
What should I do before the photographer arrives?
We recommend preparing your venue the same way you would before a wedding — clean, decorated, and well-lit. Keep in mind that the camera will capture rich details of your space for users to explore
and zoom.
How long does it take to add to my WeddingWire and The Knot Storefronts?
After your appointment, it will take approximately 3 weeks for your WeddingPro 360° Virtual Tour to appear on your WeddingWire and The Knot Storefronts.
Can I add this tour to my website or other marketing materials?
Currently tours cannot be exported or downloaded. Please direct prospective clients to view the tour on your WeddingWire or The Knot Storefronts.
What are the 360° Virtual Tour Terms and Conditions?
Already Have a Tour on WeddingWire?
Send us a note and we'll add your tour to
The Knot, too!
Request a 360° Virtual Tour
Submit this form and we will be in touch shortly to schedule
your appointment.